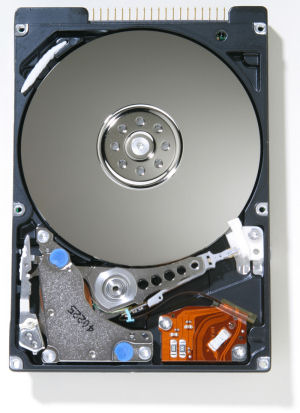 Not long after Seagate announced its disc level security encryption, Hitachi was right behind them unveiling new 2.5 inch notebook drives for 2007 that have greater capacities, require less power due to flash memory utilization, and have encryption security right on the disk.
The encryption, similar to what is being done with disk level encryption by Seagate, happens right on the disk which allows it to be "bound" with a device and helps avoid having data stolen or lost since it encrypted at the disk level and doesn't need an application to implement it.
Hitachi is also increasing the total drive capacity on their notebook hard drives starting in 2007. The company will be coming out with increased capacities of 200GB and 250GB for the 2.5″ drives. By the end of 2007 Hitachi says they could be looking at creating notebook drives with a capacity of 750GB.
Along with the encryption security and increased capacities, Hitachi has added one more piece to their list of improved features by creating a "hybrid" drive incorporating Flash memory. Flash memory is not new to disk drives, but Hitachi is using it for more than what is customary since the cost of memory has been decreasing. This would require less physical spinning of the drive required to save a retrieve data, and ultimately results in less drain on the notebook battery.