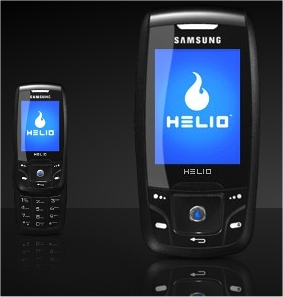 Helio has announced the launch of the newest mobile phone in its family of mobile devices targeted towards young, connected consumers. The Drift is a slender slider phone produced by Samsung and made exclusively for Helio members.
The Drift supports Helio GPS services that feature Google Maps for mobile. This service allows you to use a GPS-enabled version of Google Maps for Mobile to find your current location or a nearby restaurant or coffeehouse. Helio members also get real-time traffic reports, detailed step-by-step directions displayed on the map, and integrated search results.
Another handy GPS feature is the Buddy Beacon which allows Helio members to broadcast their location to the friends they add to their Buddy List. Once the Buddy Beacon is activated, their Buddy List friends can see their location on a map along with a nearby address.
The Drift features a 2.12 inch high-resolution QVGA display, stereo Bluetooth, 128MB internal memory (expandable microSD), 2.0 megapixel camera, and MP3, MPEG-4 and VOD support.
The Drift is now available for $225 at www.helio.com, 888-88-HELIO and at nearly 2,500 retail locations nationwide.