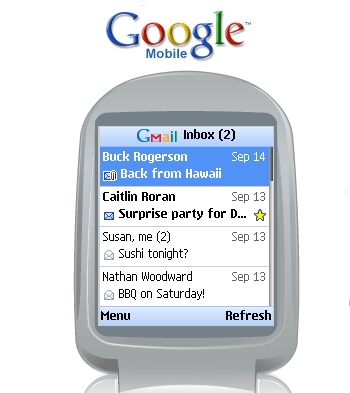 Google has announced a free Java application that can be downloaded to your mobile device as an advanced interface to Gmail. Mobile phone users that have internet enabled phones and access can already get their Gmail through their browser, but this application gives a richer, faster and more intuitive experience, according to Google.
The new mobile interface has pretty much the same look and feel as the normal Gmail browser based application, but does not require the mobile phone browser and in turn gives quicker access to email messages through the new Java based application.
The application continues to synchronize the same way it does for the web application as well, so no data is stored exclusively local within the mobile device. Sent items, deleted items and inbox all will have the same data whether you are on your PC or on your mobile device. The Gmail application also has an advanced search function that allows you to search through the entire Gmail archive quickly and easily.
Check out a list of Gmail application compatible phones. These are the ones that have been confirmed so far. The application is compatible with any J2ME enabled phones in the US and works a various number of carrier plans, but as of this writing it does not work with T-Mobile USA or BREW-based carriers such as Verizon, Alltel or US Cellular.
Find out More [Google Mobile]
Go to www.gmail.com/app on your mobile browser for the free download.