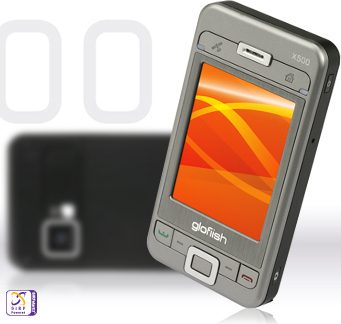 The glofiish X500 is a great contender for the ultimate mobile business solution device. ETEN boasts that at the time of its production, the glofiish X500 is the thinnest phone running Windows Pocket PC and having communications through Quad-band GSM, WiFi and GPS all in one device. On top of that, the X500 also supports Bluetooth to allow you to use a headset or full keyboard without wires.
A built-in Qwerty keyboard would always be nice, but it would certainly affect the size of the new glofiish mobile phone which will require you to type on the screen or with an external keyboard. The dimensions on this gadget are a mere 113mm x 59.5mm x 15.5mm and it weighs a svelte 146g with the battery installed. The display screen is also a decent sized 2.8″ TFT-LCD with a resolution of 240 x 320 and 65,536 colors.
The glofiish device has a built in 2.0 megapixel camera, a micro SD card slot to expand your memory, some imaging software to view and edit pictures and video, and an FM Tuner built right in so you can listen to the FM radio as well as downloaded music, but those are just extra features to the business implementations of this phone.
The device runs on Windows Mobile 5.0 with Outlook and all the handy and well known business applications that come along with the Windows Mobile software such as Word, Excel, Internet Explorer and many more. The OS runs on a 400 MHz Samsung processor with 128 MB of ROM.
The glofiish X500 has just about everything you would expect from a smart device such as this, and has the added kick of having the wide range of communication access with GSM, and the WiFi and GPS all in one device you can get more mileage out of one gadget, which is not always easy to come by.
Product Details [ETEN]