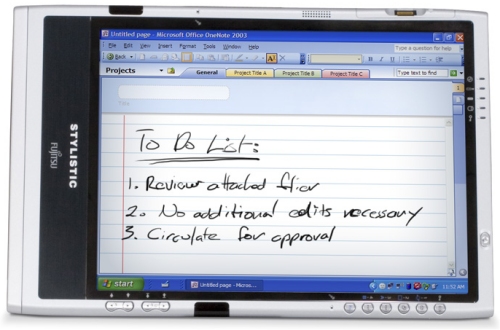 The ST5111 and ST5112 Tablet PCs from Fujitsu Computer Systems Corporation are ideal for project-based applications, as well as for mobile professionals in healthcare and field and sales force automation. The rough and tumble 3.5-pound ST5100 Tablet PCs are less than an inch thick and come with a durable magnesium-alloy lower housing and offer the latest Intel Core Duo Mobile Technology. The accelerometer-based hard disk drive with Fujitsu Shock Sensor system retracts the hard drive head if a sudden movement or vibration is detected, thus reducing the possibility of data loss.
The ST5111 Tablet PC features a 10.4-inch XGA TFT display that is ideal for outdoor viewing and direct sunlight conditions. The ST5112 Tablet PC has a slightly larger screen at 12.1 inches and features a transmissive indoor/outdoor XGA display with 160° wide viewing angles. Both models offer battery life up to 6 hours with a standard 6-cell battery or a high-capacity 9-cell battery for up to 9 hours of battery life.
Tablet PC functions include intuitive one-touch application buttons, pen and inking capabilities, and a new pen designed with an eraser top to ensure maximize productivity. The optional tablet dock transforms the system into a complete desktop solution and supports portrait and landscape modes with immediate undocking for on-the-go computing.
The Fujitsu ST5111 Tablet PC starts at $2,429 for a base configuration, while the ST5112 Tablet PC is priced at $2,199 for a base configuration. Both Tablet PCs are immediately available through the Fujitsu direct sales force, website, channel partners and select retail outlets.