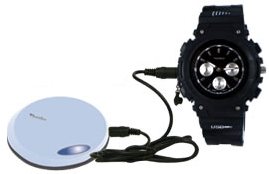 At first glance the FMP3 Watch appears to be just another watch that plays MP3s. Upon closer inspection we find that this watch includes a handy FM transmitter which allows you to transmit your MP3′s to FM radio. The FM transmitter will playback music on FM radio frequencies between 88.1MHz, 88.5MHz, and 88.9MHz with an approximate range of 6m-10m.
The FMP3 watch also contains an MP3 Player, Voice Recorder, and Line-in Recording capabilities. With the watch, you can control common operations such as play, stop, next, and back. Transfer your MP3 files to the watch via USB with memory capacities of 512MB and 1GB. Like a secret-service agent the hidden, built-in microphone allows you to discretely record your voice or sound directly to the device, and line-in recording is possible by connecting to an external source. Enjoy a continuous playback time of approximately 9 hours, but this time is significantly cut down to 3 hours when FM transmitter is used.
Oh, and it tells tell the time pretty well too.
FMP3 Watch with FM Transmitter