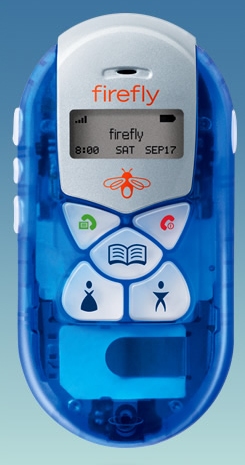 The Firefly is a mobile phone designed with kids in mind. The idea of kids having cell phones is becoming more popular, and the age at which kids are using cell phones seems to be getting younger.
Giving your child a mobile phone provides convenience for them and you, but being able to control how much the phone is used, especially with younger children, is important. Firefly has made a phone that is especially designed for use by young children. The phone has multiple ringtones and animations to choose from with different colors available. It glows in the dark and is small for kids hands.
The Firefly phone has just 5 buttons on it, so it is not complicated for kids to use. There are two speed dial buttons, one designed for each parent so the user of the mobile phone can easily call mom or dad by using one button. There is also a secure phone book that can store up to 20 numbers. Parents can use a PIN code to manage the numbers that are in this list, and optionally the parents can limit incoming calls to be from the numbers in the phone book. This prevents kids from receiving unwanted calls and running up minutes.
If you are considering a cell phone for your child but are concerned about them being able to use it or abusing it, the Firefly might be a good solution.
Product Page [Firefly]