Table of contents for Nintendo Wii Game Preview Series
Excite Truck – Wii Game Feature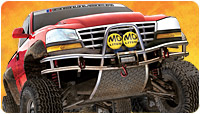 Many will remember the successful Excite Bike on the original Nintendo Entertainment System. Memories of the body English and arm-flailing necessary to land those big-air jumps are sure to come back. Well, you can relive that experience with Excite Truck for the Wii. Excite Truck is a solid game which nicely fills the racing genre for the Wii launch and will surely satisfy even the staunchest of racing fans.
The game features 11 vehicles and loads of dynamic terrain. Picking up items on the course can cause the terrain to deform in real time making for some interesting gameplay.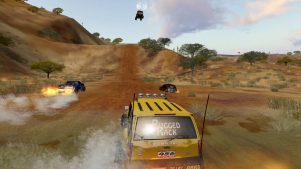 This can turn innocent-looking bumps into massive launch pads that affect not only your route, but that of buddy too. Other items can instantaneously change the scaling of the environment around you or make spikes fly out of the rocks on the road.
The goal in Excite Truck is to win races and earn as many stars as possible by completing challenges throughout the race. Various bonuses and power-ups are also littered throughout the track.
Wii Controller Features
Steeling your vehicle is accomplished by holding the Wii-mote horizontally with your hands placed at each end of the controller. The 2 button is the accelerator, the 1 button is the brake, and the + Control Pad is the turbo. Once your ride is airborne, tilt the Wii-mote controller so that your wheels line-up for landing bonuses. You can also tilt the Wiimote backward to for higher jumps and forward to bring your vehicle down when it is airborne.
Developer: Monster Games Inc.
Publisher: Nintendo
Genre: Racing
Players: 1-2
Release Date: Nov 19, 2006