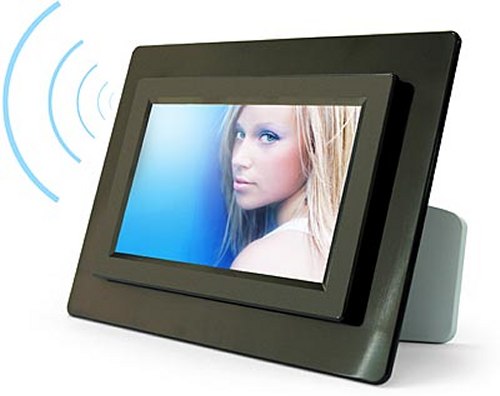 The eStarling 7 inch LCD digital picture frame allows you to rotate through different digital pictures on the frame, but that certainly is not what makes it special.
This picture frame is also WiFi enabled and picks up photos without wires from email, a Flickr RSS stream and from an external media card. This means that once you have set it up, it stands alone and gets new photos sent to it automatically.
The Starling picture frame itself can check email by configuring a POP3 email account along with user name and password. After that, just send an email to the address with a JPEG or GIF file and the picture frame will catch it and add it to the rotation.
You can also define a key word for your feed with Flickr and have it bring in a rotation of photos based on your keyword selection.
I can see many applications for this. When I am at the office, my wife can simply email photos from her phone of what her and the kids are doing, and they go directly to my picture frame and are added to the rotation. eStarling has added a little security so that you can limit where the emails come from so you are not getting some "spammy" pictures when you don't want them. That could make this picture frame, and the Flickr feed for that matter, pretty dangerous in the workplace.
More Info [eStarling]
digital photo frame, eStarling, picture frame