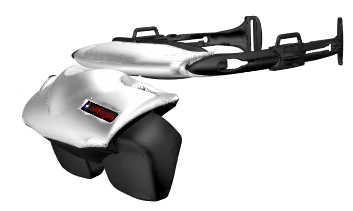 The eMagin Z800 3DVisor surrounds you with all the screen real-estate you need for a truly immersive 3D computing experience. Games, entertainment, and work will never seem the same when you can work or play in complete privacy and with a borderless view of your data.
Two high-contrast eMagin SVGA 3D OLED Microdisplays provide fluid full-motion video in full 3D with no flicker or screen smear. The eMagin OLED displays are only 0.59 inch diagonal, yet the picture is the equivalent of a 105-inch movie screen viewed at 12 feet.
The highly responsive head-tracking system enables users to experience their data in full 3D surround with just a turn of the head. The headtracker contains compasses, gyros, and accelerometers allowing it to track motion on all axes.Multiple monitors can also be simulated which is great for designers, publishers, and engineers who commonly need access to view multiple drawings and renderings.
The eMagin Z800 3DVisor also integrates a audio with high-fidelity stereo sound and a built-in noise-canceling microphone system.