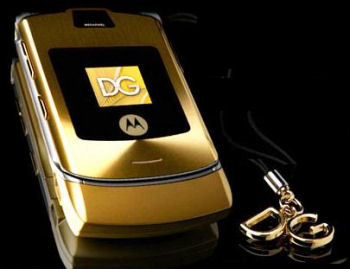 The MOTORAZR V3i DG from Motorola has all the features of a normal MOTORAZR with some added classy bling from DG.
The stylish gold frame is not the only flash, as you can accesorize with a gold DG Bluetooth headset, matching gold Motorola DG headphones, a nice light brown leather case with the DG insignia, and a fashionable gold DG lanyard, pictured here. These Motorola DG accessories do a great job in complimenting the stylish gold RAZR.
Of course this DG MOTORAZR comes with all the standard cool features of the standard thin mobile phone. Some key features include a 1.23 megapixel camera for still shots and video, many downloadable ringtones, wallpapers, themes and screensavers, and a polyphonic speaker.
The call management features allow you to manage groups, time stamp your calls, keep up to 1000 entries in your phone book (more with a SIM card), use the speaker phone and turn it to airplane mode to listen to music or play downloaded games while in flight.
The RAZR also supports messaging with SMS, EMS, MMS, email and utilizes the iTAP predictive text technology to make writing messages on the phone faster.
The technology continues to get packed into the thin, clam-shell style MOTORAZR with Quad-band support for getting reception almost anywhere, and allows around 200-400 minutes of talk time and over 200 hours of standby time with the standard battery.
With all of this you would expect a bulkier phone than you would find in this sleek V3i DG, but the mobile phone only weighs 100 grams and is only 13mm thick. This still allows for a pretty big 96×80 color display.
Motorola has a pretty nice (but slow) web site to check out the MOTORAZR V3i DG for yourself if you have the patience.
Flash site [Motorola]