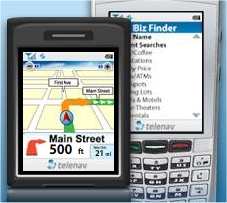 Cingular Wireless has become the first wireless carrier in the U.S. to offer a wireless navigation system with 3D maps. The new system will be featured on the Nokia E62 device and utilizes an enhanced version of TeleNav GPS Navigator.
The TeleNav GPS Navigator system will give customers 3D moving maps on the Nokia E62′s large, high-resolution screen. The system works much like an in-car navigation system; you received turn-by-turn directions while driving and the 3D maps turn, move and stop as the driver does the same, while also displaying images of the streets the driver is approaching. Users can also pan and zoom the map to view nearby streets.
Customers will also be able to take advantage of many robust search features provided with TeleNav GPS Navigator on the Nokia E62. These services include searching for a business, place of interest, and even the lowest gas prices along their routes. Another feature dubbed "fuzzy search" (or predictive address entry), detects and automatically fills in addresses based on current or commonly-used locations, as well as corrective entry, which automatically fixes spelling mistakes.
Cingular is currently offering a free month trial of TeleNav GPS Navigator. A subscription to the service will range from $5.99 per month for up to 10 trips or $9.99 a month for unlimited trips (Cingular data plan also required). The subscription to TeleNav GPS Navigator includes free, automatic and ongoing map and Point of Interest (POI) content updates.
The Cingular-TeleNav service becomes yet another mobile GPS-based service offering in a string of recent announcements. Mobile GPS services and related systems are becoming increasingly prevalent. Services like loopt and the Helio Drift round out many of the new GPS-enabled service offerings.