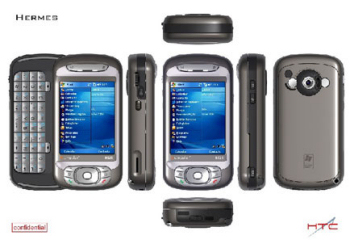 Today Cingular announced the release of the 8525 PDA, which is the first smart phone or PDA in the US to be UMTS/HSDPA enabled, as well as the first mobile device in the US to offer users 3G capabilities in both the U.S. and in many other countries around the world. Cingular's BroadbandConnect service is available in the US and over 100 other countries around the world, and Cingular plans on continuing to expand this 3G coverage with GSM providers in the coming years.
The new 8525 PDA Pocket PC uses Microsoft Windows Mobile 5.0 with Direct Push Technology. The device has incorporated a number of nice navigation controls to utilize the OS, including a scroll wheel and allowing touch-screen capabilities common with PDA's. This makes navigating Windows features even easier and allows users to further take advantage of the applications on Windows Mobile, such as the IE browser, Media Player and email through MS Outlook by making it more accessible. The Direct Push portion of Windows Mobile allows users of the Cingular 8525 to always keep their information in sync and up to date.
Aside from the country-spanning BroadbandConnect service, the 8525 also supports WiFi, Bluetooth and infrared connectivity which will allow the owner to pick up wireless LAN networks and connect and transfer information to different proximal devices. The combination of these connections and the design of the 8525 allow the simultaneous usage of LAN and phone services, so you can download a file and talk on the phone at the same time, and neither will interfere with the other.
If you think you have reached the end of the features packed into this full-sized PDA, think again. Cingular is also adding in TeleNav GPS Navigator, which will be a first for Cingular devices and will give users turn by turn driving directions and audible commands.
And of course the new PDA will have the ability to listen to music, watch MobiTV and take pictures and video clips with a 2 mega pixel camera. It also has a SD card slot to add extra memory up to 1 GB.
Press Release [Cingular]