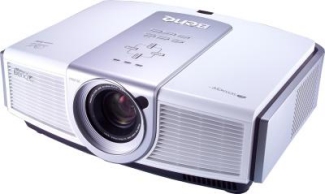 The BenQ W10000 is BenQ's first foray into the 1080p HD digital projector market. This projector is a serious upgrade for any home theater zealot and takes BenQ's projector lineup to a whole new level.
The W10000 home cinema projector features BenQ's proprietary Senseye technology and a 10000:1 contrast ratio with native 1920 x 1080 resolution. Other features include:
1,200 ANSI lumens
Advanced Continuous Electronic IRIS – Increases the contrast ratio to 10000:1 while optimizing light intensity for bright and dark scenes
DarkChip3 DMD chipset – DMD helps to decrease the scattering of light and significantly boosts image contrast for dark scenes with a high resolution projection lens to provide the best possible image performance.
A broad selection of application modes including cinema mode, home theater mode, family room mode, photo mode and gaming mode, providing instant settings for various applications.
Features a whisper quiet design that is able to reduce the operation noise to a low 23dB, ensuring an undisturbed viewing environment.
The W10000 is designed for serious home theater enthusiasts and performs well with various devices such as high definition DVD players, Blu-ray players, and game consoles. The W10000 is available immediately through Home Theater distributors in the US.