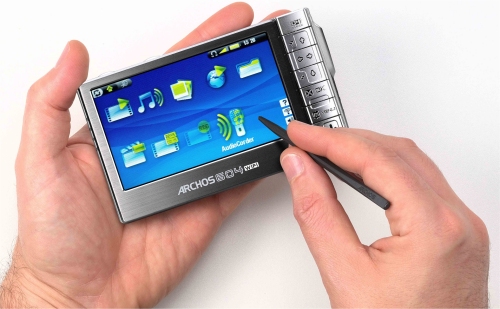 The Archos 604 WiFi is very similar to the previous version of the Archos 604 Video Player that we featured in September, but they've added a very cool feature – WiFi. The WiFi feature enables wireless connections to transfer files, as well as wireless surfing of the web and emailing (through web based email systems) right out of the device.
The Archos 604 is still the same great solution for watching portable videos, and also works great for viewing photos and listening to music, a lot of which you can do simultaneously. The 30 GB hard drive allows for storage of up to 25 full length movies, 130 hours of TV shows recorded through an optional DVR station, 300k photos or 15k songs. The video player also has a built in speaker and a little kickstand on the back so you can set the player upright on a table to watch videos and listen to music. The kick stand is incredibly handy to prop up the device, especially when more than one person is watching.
You can also get some pretty cool accessories for the Archos 604 and the Archos 604 WiFi. The optional DVR Station connects to your TV and lets you record in MPEG-4 format, and then let's you play back the recorded content in high quality back on your TV. Archos also has added a pretty cool Helmet Camcorder. This small camera plugs into the Archos 604 as well as the 404 and 504 models and allows you to record video direct to the device. The camera comes with a DVR travel adapter and a head band with the intention of using it for recording first person activities for extreme sports. If nothing else, you can just use the camera with the Archos video player gadget and have a hard drive based camcorder. Even though the Archos 604 WiFi has a built in speaker, they offer some additional portable speakers that the Archos can dock into for playing back music, transferring files to your PC and to charge the device.
Not all things work well on the video player. It runs on a Linux OS, so any files that are not compatible with the Linux OS will not work. Also, watching video's on YouTube will not work since it doesn't have a Flash Player. They have a number of hardware adapters and software plug-ins to enable different connections and file formats, but many of them are not available out of the box. I'm sure Archos will continue to upgrade this device in the coming years, but it is still a very nice solution for video playback, watching movies, recording television, listening to music and viewing photos on the go. The new addition of WiFi in this version is a great feature to make transferring data that much easier as well as adding the ability to surf the web.
Cool Product Site [Archos]