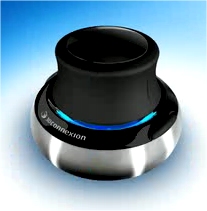 3Dconnexion, a Logitech company, today announced the addition of SpaceNavigator and SpaceExplorer to its line of 3D navigation devices.
SpaceNavigator is an entry-level 3D navigation device designed for students and enthusiasts looking to take advantage of 3Dconnexion's support of more than 100 of today's 3D applications such as Google Earth and Google SketchUp.
The SpaceNavigator support of Google Earth allows you to instantly circumnavigate the globe, hover or move up and down like a helicopter, or fly through cities and canyons with precise control. SpaceNavigator also supports Google SketchUp which allows you to model nearly anything such as buildings, appliances, cars, or even people in 3D.
SpaceNavigator features two programmable buttons that allow you to perform common actions quickly. The device recognizes each new application and adapts the behavior of the control cap and button assignments automatically to free you from the repetitious steps.
All 3Dconnexion devices feature a controller cap that enables users to navigate through three-dimensional applications and simultaneously pan, zoom and rotate 3D objects without needing to stop to use the keyboard or mouse.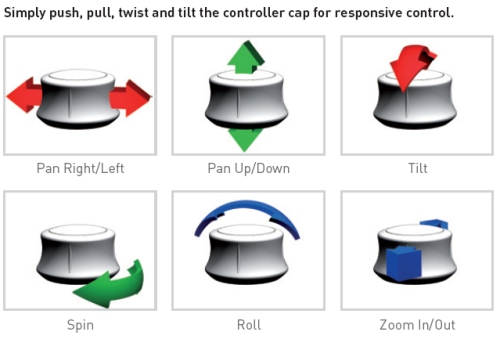 SpaceNavigator PE (personal edition) is available for $59 or try the SpaceNavigator SE (standard edition) which includes a commercial use license and full support for $99. A mid-range device called SpaceExplorer which includes 3Dconnexion's optical sensor technology and an advanced ergonomic design is available for $299.
SpaceNavigator [3Dconnexion]