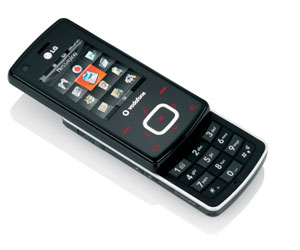 Vodafone has released a set of new 3G phones in time for the end of year holidays, some of which will offer the 3G service at entry level prices. Vodafone also has six HSDPA phones that allow high speed internet access with Motorola and Samsung Electronics.
The new phones, including the LG KU800 (pictured here) and the LG L600V among other designs are offering mobile TV services and Vodafone Radio DJ music service all at higher speeds previously were not available. The handsets can also be used as a modem for downloading email and similar tasks.
The new phones can help providers bring speeds of 1.8 megabits per second to mobile phone users, and potentially as much as 14mbps later on. Existing 3G networks usually havei nternet speeds of about 384 kbps. The new phones have been reported to smaller, have improved functionality and extended battery life, according to a representative from Vodafone.
View New Lineup of Phones from Vadofone
Press Release [Vodafone]