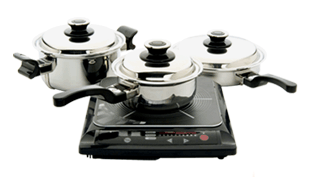 Watch out Emeril and Bobby Flay, a whole new cadre of amateur chefs are about to achieve a level of cooking previously reserved for celebrity chefs.
Vita Craft has introduced Smart Range, a new line of intelligent cooking technology that helps you create healthier, easier meals – every time.
The Smart Range cookware utilizes an RFID computer chip that is built into each pan handle. The chip is used to communicate with the cook top and recipe cards and monitor each cooking step for a particular dish. The RFID chip in each Vita Craft pan handle is specifically designed for that type of pan.
The pans themselves are superior-quality, multi-ply steel pans with a smooth-surface. The 100% American-made, high-conductivity Vita Craft pans are self-sealing, simple to clean and ensure that hapless cooks can prepare food flawlessly.
Cooking with these pans certainly won't guarantee you your own 4-star restaurant or personal bestselling cookbook, but it may help you make a decent Hollandaise.
Smart Range [Vita Craft]