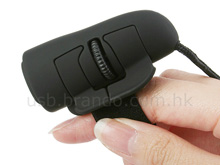 Road warriors looking to minimize gear while maximizing efficiency need look no further than the USB Finger Mouse. The Finger Mouse is a miniaturized mouse that attaches to your index finger and shortens time between keyboarding and mouse movements.
The mouse works by strapping the mouse to your index finger and using your thumb to operate the mouse buttons and scroll wheel. The innovative design allows users to write or type while operating the USB Finger Mouse at the same time, thus shortening the operation time between keyboarding and operating a mouse. Your middle finger acts as a stabilizer to provide support when double-clicking. The optical sensor on the mouse works on many surfaces such as clothing and whatever surfaces you find yourself working on.
While probably not ideal for all situations, the mouse may work well with confined working conditions and situations where desk space is at a premium.
The USB Finger Mouse is available now for $35.00 (USD).
finger mouse, mouse, USB