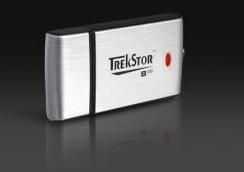 Germany based Trekstor has a mass storage device that is not in the mass physical proportions you would think are necessary with it's 12 Gig USB Stick CS-D. The USB stick is extremely small at under 70mm at it's widest and under 30 grams for a device able to hold so much data. It's compatable for fast data transfer rates with USB 2.0 and also will work with USB 1.1.
The Trekstor CS-D USB stick is ready to go with no drivers needed to run in a sharp looking aluminum housing. The gadget also comes with a neckstrap (you don't want to be losing this one) and an extension USB cord.
Trekstor also has a number of other storage devices and allows customizable names on the case for one model. If you need to store a whole lot of data in your pocket the Treckstor CS-D is a viable solution.
Thanks for the tip, Brian!
USB Stick [Trekstor]