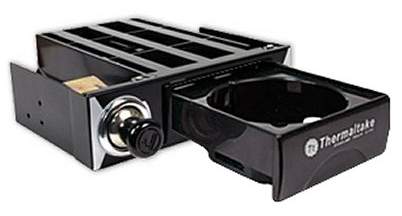 OK, how cool is this?
Well… I guess smoking might not be considered so cool, and maybe drinks aren't the best thing to be setting on your PC, but if you are going to be smoking and drinking at your desk anyway, then "How cool is this!!".
This is the Thermaltake X-Ray Cigarette lighter adapter and beverage holder. It fits into your 5.25″ drive bay and runs off of the power adapters in your PC. The cigarette light works like a cigarette lighter would in your car, and the beverage holder actually has an eject button to run it in and out like a disk drive.
Even if you don't smoke this is pretty cool to hold drinks alone. And, aside from using the cigarette lighter adapter for lighting cigarettes, you can use it to charge things you normally could have only done in the car. Now you only need a car adapter for your phone and similar items.
Thermaltake [Xoxide]