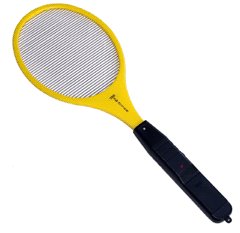 No more swatting bugs and leaving a smashed mess when you are using the Electric Bug Swatter. Yes, it is just like it sounds. Similar to the blue bug "zappers" on your uncles porch years ago, you now can carry that power in your own hand.
When using the Electric Bug Swatter, you simply turn on the switch to charge the electric current and heat up your racket. Two AA batteries send approximately 1400 volts at a low amperage coursing through the grid of bug death and zap insects dead in mid air. Hold the racket still and you can let the bugs come to you, unwittingly flying straight into inescapable doom.
This swatter gave us hours of unintended uses and enjoyment, but please note that this is not a toy, which Quagmire can vouch for as you do not want to let someone cross the Electric Bug Swatter with your stream.
Electric Bug Swatter [Magent.com]