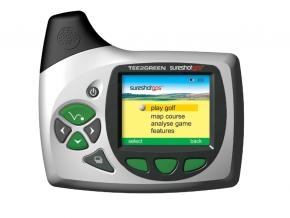 If you happen to be looking for a great golf gadget for the coming holiday season or an occasion, you will want to check out the Sureshot GPS. This small GPS enabled device come loaded with a large number of convenient features that can potentially be used on any golf course around the world.
For it's simplest use, the Sureshot GPS can be used to measure your distance to the hole at the pin position for the day, along with distances to the center, front and back of the green from your current position. You can load up to 10 different courses into the device at a time with up to 33 recorded points for each hole identifying items such as hazards and the green.
As you are golfing you can also record statistical information about your play such as strokes, putts, elapsed playing time, and pace of your play. The Sureshot can even make club recommendations based on distances to the hole based on your stats from previously recorded strokes. Windows software allows upload and download of information to get course info and record stats across multiple games.
Advertisers can also place advertisements on the device for targeted ads to specific consumers when you rent out the device. This Sureshot GPS has some advantages over traditional mechanical or site distance measuring devices in that it can measure further than you can see and is not subject to obstructions between you and the green, and is a great gift idea for the golfer who has everything.
More Info [Sureshot GPS]