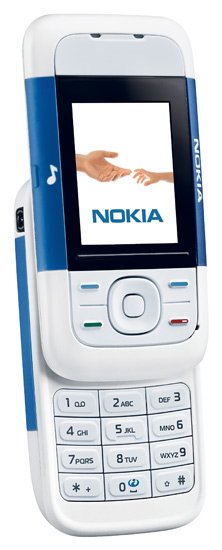 Nokia says their new 5200 mobile phone has a street smart design, and I have to agree with this one. This phone has a simplistic look that makes it easy to use and straight forward. No excessive bling or anything that will bring on any unnecessary attention. It almost looks like a phone you might use for talking.
Of course, the Nokia 5200 is a new mobile phone that has been recently released, so you know it's not just for talking. Behind this unassuming exterior is a mobile phone that has all the features you would expect from a phone these days. It covers the big three frequencies (900/1800/1900), so you can go places, lots of places. And it travels well at only 85cc and 92mm tall.
The Nokia 5200 has a VGA camera with 4x zoom, along with a built in landscape camcorder and video player. Along with listening to MP3′s you can pick up local FM radio where ever you're at, too.
Even though you can talk almost anywhere in the world you go, you can also connect with Bluetooth, Infrared and it has a USB interface. These are all nice features to have in a phone when you need to interact with anything else, transfer data, or upload music. Speaking of that, the Nokia supports downloading music disconnected through the air, and also supports hotswap MicroSD cards, so you can remove and insert your flash memory card on the fly without turning anything off.
I really like this clean design and feature set. It's not overboard but is has what most people want, and is humble enough to use in any crowd.
Press Release [Nokia]