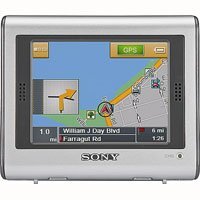 The one feature that really makes this GPS stand out is the generous 3.5-inch touch screen. The anti-glare/anti-fingerprint touch screen produces clear, sharp text that is easy to read. The touch-screen control is easy to navigate with the intuitive menu system. The Intelligent Auto-Dimming Feature keeps the screen readable all day as the screen automatically adjusts the brightness level of the display based on the amount of light around the unit.
The unit comes pre-installed with maps of the 48 contiguous states and a database of 1.6 Million Points of Interest (POI). With the included DVD you can load USA, Canada, Alaska, Hawaii, and Puerto Rico on the 1GB internal flash memory.
Battery life is always a concern when it comes to GPS units and the NV-U70 comes with a rechargeable lithium-ion battery and home and car chargers. The unit can last up to 4 hours when it's not connected to your pc or car. When it does come time to charge you can still use it while it is recharging.
Installation is a snap as there are no complicated installation requirements. The NV-U70 is ready to go out of the box and you have the flexibility of using it anywhere you go without needing to worry about complicated wires and plugs.
The lightweight (11 ounces) and compact design allows it to move easily from car to car making this a truly all-in-one solution for both business and recreation.