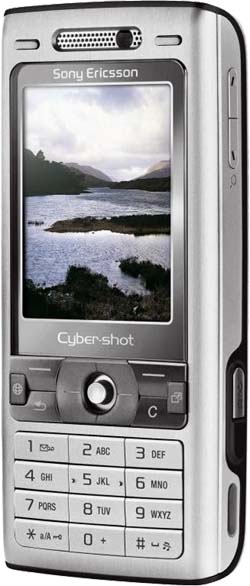 Sony Ericsson has announced two special new phones – the K800 and K790, which are both a Cyber-shot camera phone as used by James Bond in the awaited new Bond movie, Casino Royale.
The silver K800 and K790 phones will no doubt be type casted from now on with the cool, sophisticated style of James Bond. Both mobile phones have a 3.2-megapixel camera with auto-focus, Xenon flash for lowlight conditions some cool software called BestPic, which allows the user to take multiple pictures of moving objects simultaneously and then pick the best shot to keep.
Each version of the James Bond mobile phone also comes with Picture Blogging for uploading photos to a personal online blog website and PictBridge for printing directly to a printer.
The convenient high speed 3G data transfer allows the fast transfer of data to to share images with friends.
A nice bonus to this limited release is the added "James Bond 007″ themed content. The silver K800 and K790 Cyber-shot phones are equipped with James Bond wallpapers, ringtones and the full video movie trailer of Casino Royale, which is the Bond movie that this phone is featured in.
The special edition Silver K800 (dual-mode UMTS 2100 MHZ and GPRS) and K790 (tri-band EDGE) Cyber-shot phones are expected to be available worldwide during Q4 2006.
These camera phones will be available for a limited time of only three months, so you will want to keep an eye on this site for the announcement when they are available.
Press Release [Sony Ericsson]