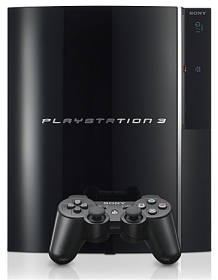 Sony announced the debut game titles for its highly anticipated Playstation 3 game console. Upwards of 20 PS3 titles will be available through the holidays, resulting in a very diverse line-up for the new game console. The library of debut games covers the most popular game genres and features some of the leading game franchises. Most titles are expected to retail under $60.
Sony Titles
Resistance: Fall of Manâ"¢
NBA 07
Genji: Days of the Bladeâ"¢
Third Party Publisher Titles
Blazing Angelsâ"¢ Squadrons of WWII (Ubisoft)
Call of Duty®3 (Activision)
EA Sportsâ"¢ Fight Night Round 3 (Electronic Arts)
The Elder Scrolls IV: Oblivion (Bethesda Softworks)
F.E.A.R.â"¢ (Vivendi Universal Games)
Full Autoâ"¢2: Battlelines (Sega)
Madden NFLâ"¢ 07 (Electronic Arts)
MARVELâ"¢:ULTIMATE ALLIANCEâ"¢ (Activision)
Mobile Suit Gundam®: CROSSFIRE™ (NAMCO BANDAI Games)
NBA 2K7 (2K Sports)
Need For Speedâ"¢ Carbon (Electronic Arts)
NHL® 2K7 (2K Sports)
RIDGE RACER® 7 (NAMCO BANDAI Games)
Sonic the Hedgehog (Sega)
Tiger Woods PGA Tour® 07 (Electronic Arts)
Tom Clancy's Rainbow Six® Vegas (Ubisoft)
Tony Hawk's Project 8â"¢ (Activision)
Untold Legendsâ"¢ Dark Kingdomâ"¢ (Sony Online Entertainment)
"We are pioneering a new era of true next-generation gaming through such titles as Resistance: Fall of Manâ"¢, a visually arresting game that takes advantage of the large storage capacity and exceptional visual clarity offered by Blu-ray Discâ"¢ (BD); and NBA 07, running at full 1080p for the highest resolution image possible, creating hyper-realistic characters and gameplay never seen before." said Kaz Hirai, President and CEO of Sony Computer Entertainment America.
The system is expected to be available in North America on November 17, 2006.