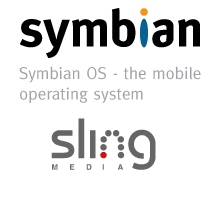 Sling Media Inc. and Symbian Limited recently announced that the two companies are partnering to bring customers the SlingPlayer Mobile TV experience to Symbian-enabled smartphones.
The partnership involves Sling Media porting a version of its SlingPlayer Mobile software application to the Symbian OS in select European and Asian countries during the 4th quarter 2006 and ultimately to the U.S.
The SlingPlayer Mobile service on supported Symbian smartphones will give users access to their living room television to watch recorded shows, pause, and rewind live TV, or even queue new recordings. Any program that can be watched at home will be viewable through a Slingbox on supported Symbian smartphones through standard network connections, such as 3G cellular and WiFi SlingPlayer Mobile.
Sling Media developed the award-winning Slingbox, a device that allows consumers to access their living room television experience at any time, from any location, using a variety of different displays including laptops and desktop PCs, PDAs and smartphones.
Symbian develops and licenses the Symbian OS, the market leading open operating system for data-enabled mobile phones (smartphones). During the first half of 2006, 24 million Symbian OS phones were sold worldwide to over 250 major network operators, bringing the total number of Symbian OS phones shipped to 82.8 million.