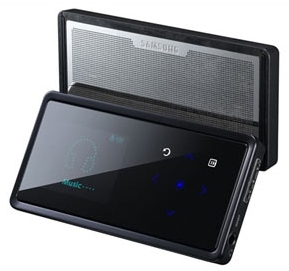 Are you looking for an MP3 player that allows you to listen to your tunes with or without headphones? The Samsung K5 MP3 Player features slide-out stereo speakers that turn this player into a mini boombox, giving you the freedom to listen to your library free of your headphones when the need arises.
This player is great for people who travel frequently as it also serves as a travel alarm clock, waking you up the next morning with your favorite song. The built-in Li-Poly rechargeable battery gives you 30+ hours of playback without recharging and the 1.71″ OLED screen displays your favorite photos making you feel right at home.
The K5 is available in 2GB and 4GB model and is available now for $259 (USD).