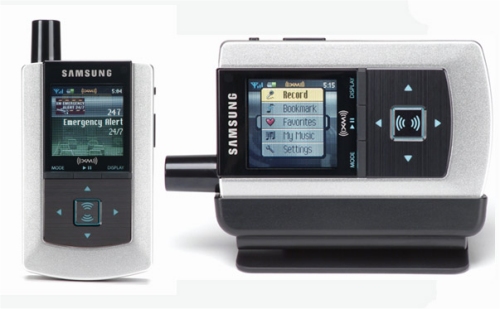 The Helix satellite radio player offers XM satellite radio and MP3 music on the same mobile gadget. Now I think that is cool.
It has a nice color screen for navigation and viewing of stock quotes and sport scores, and you can also put your MP3′s on the device. When you are tired of them, turn on the XM radio. If you hear a song you like, even if you are half way through it you can record it to the Helix from the start. Samsung and XM have gone in together on a deal to make an improved music listening experience, along with an interface to make finding what you want easy and enjoyable.
You can also record shows onto the Helix player, so if there is something coming up on XM satellite radio that you are going to miss, you can record it and listen to it later. You can save up to 50 hours of XM radio programming into the 1GB internal flash memory, but unfortunately you cannot add external memory cards to expand it, and you can only get about 5 hours of play time before needing to recharge. Also, there is not a way to get the songs that you record off of the Helix player. I imagine all that is to avoid the stealing music, but this is still a pretty cool combination of media.
Product Page [Samsung]