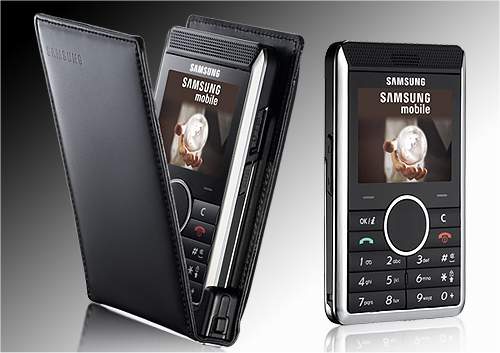 Slim like a credit card. Samsung has done a great job of improving their previous Card Phone with the new Card Phone II, which is officially called the Samsung SGH-P310. The distinguishing feature of this mobile phone is obviously it's thickness, or the lack of thickness, actually. At only 8mm thick, this is a seriously thin phone, and with the new design of a shiny black case it is perfect for travelers who want to have the smooth sharp look with their mobile device.
Aside from the sleek look, the included case that comes with the Samsung SGH-P310 actually adds battery life, and if you really don't loose too much in the way of features. I would not label this phone as a mobile office, nor would I call it a multimedia phone, but it falls somewhere in between. It has a 2.0 Megapixel camera built into this tiny frame, and a nice bright 1.9″ Color LCD screen. It can also record and play video, play music, handle messaging and connect via Bluetooth. It supports the EDGE technology and only weighs 75g. To store those videos, pictures and music, there is only 80MB of available space, but you can add an SD card to expand the memory.
Not overloaded with features, the SGH-P310 is a nice very slim phone, combined with it's credit card like case has professional written all over it.
Card Phone II [Samsung]