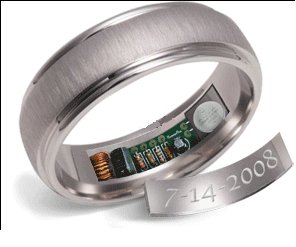 Tell the makers of the Remember Ring the date of your anniversary, and they will build it into the electronics of this finger gadget to remind you of the big day, each year.
Every year thereafter at 24 hours before the anniversary this ring will heat up to 120 degrees Fahrenheit for just 10 seconds. The 120 degrees is enough to get your attention but is not supposed to be hot enough to actually cause a burn. It gives you this reminder every hour on the hour for the 24 hours prior to the date set to help assure you will never forget the big date.
The Remember Ring charges it's battery through the heat from your hand throughout the year, so the battery should not go dead, comes in seven different styles, is completely waterproof and has lifetime warranty.
Remember Ring [Alaska Jewelry]