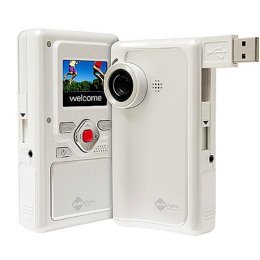 Pure Digital Technologies, a pioneer in developing one-time use cameras and camcorders has released the Point & Shoot Video Camcorder.
The new camcorder is a great alternative for those people who want a simple, no-frills solution for creating and sharing high quality home movies. Compact, affordable, and easy-to-use; Pure Digital's new camcorder allows anyone to easily record and share their adventures with one push of a button.
The Point and Shoot also plugs into a PC via USB and has built-in software to transfer and process the video with one click. Pure Digital is surely hoping to cash in on the proliferation of online video sharing services like YouTube, MSN Soapbox and Yahoo video with this new camera.
The Point and Shoot comes in two models, one that holds 30 minutes of video and a 60 minute model which cost $129 and $169 respectively. The Point & Shoot Digital Camcorder is available now at Target and selected Costco locations.
Point and Shoot Camcorder [Pure Digital Technologies]