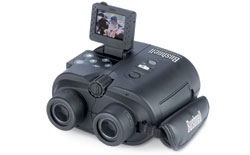 The Bushnell Instant Replay Binoculars allow you to use them as you would regular binoculars, watching outdoor wildlife, football games or whatever. What makes this a pretty cool gadget is that you can take 3.2 megapixel digital photos through the binoculars, and you can actually record motion video through them as well.
The Instant Replay Binoculars are just like it sounds. You can be recording events as they happen and as you see them through the binoculars, and then save them and reply them or the photos on the 1.5″ pop-up LCD screen mounted on top.
The binoculars have 32MB of internal memory for storing video and pictures, and it has a compact flash slot for adding additional memory. The binoculars themselves have 8x magnification and a 32mm lens, and is powered by 2 AA batteries. Some additional stats on the Instant Replay Binoculars from Bushnell:
Center Focus System
Mid-Size class
Roof Prism System
BaK-4 Prism Glass
314 foot field of view at 1000 yards
Pop-up Eye cups
Weight of 25 oz
Tripod adapter
These would be very handy for all those times I site Bigfoot, UFO's, Paris Hilton and all that other things that no one will believe.
Product Page [Bushnell]
Binoculars, Bushnell, camera, instant replay, video