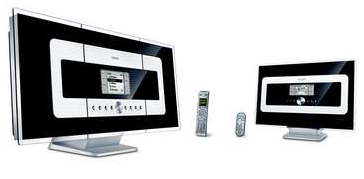 Philips is hoping to make some serious headway into the Digital Media Receiver (DMR) market with release of the WACS700/37 Digital Media Receiver. The new wireless music center allows you to stream music around your house wirelessly to remote stations that you connect to the system.
The WACS700 is the latest device in the family of Streamium products, and consists of a base unit called the Center and a remote Station which has its own speakers. The system allows you to easily connect up to five stations, enough for the average house. You can listen to your music wherever you are in your home or family members in five different rooms can access and listen to their own choice of music from the Wireless Audio Center at the same time.
Equipped with a 40GB hard drive, the system offers enough capacity for you to hold up to 750 CDs from your music collection. The speedy recording feature is fast enough to allow you to play and rip a particular song almost at the same time.
The 2-way Remote Control has a built-in display that allows you to navigate through hundreds of songs easily for true one handed operation. The remote displays six lines information listed according to playlist, album, artist, genre or track. The intuitive navigation gives you speedy access to hundreds of files.
Although the WACS700/37 is targeted towards mainstream consumers, the sound quality will surprise even the most stringent audiophiles while the simplicity and ease-of-use will certainly appeal to the most technology adverse.