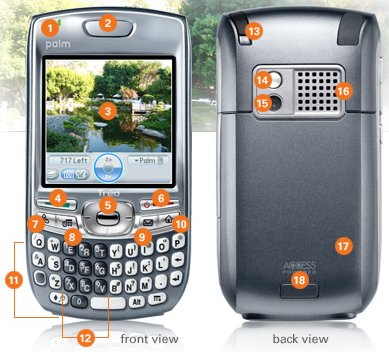 Palm has announced the Palm Treo 680 smartphone, a GSM/GPRS/EDGE quad-band world phone with PDA features. The new Treo 680 comes with applications for email, web browsing, messaging, multimedia, calendar, contacts and quite a bit more. The feature set looks quite a bit like the 700p model, exept for the price which is a little less.
Palm is targeting the price savvy who want a more competitive mobile computing device at a more competitive price. With the introduction of this new device Palm plans to reach new users in the growing smartphone and feature-phone markets with the Treo 680.
Palm's U.S. stores will be offering a GSM version in 4 new colors – crimson, copper, arctic and graphite. For a limited time they will come with a music bundle from Yahoo with a 30-day free trial to its music service.
The Treo 680 device comes with a new design, including an internal antenna and slim frame, making the device smaller than its Treo predecessors in the US. It has a full qwerty keyboard for writing SMS messages and emails, and a 320×320 color screen for viewing web pages, photos, applications and other media.
The Treo 680 smartphone has a unique user interface that further simplifies Treo innovations, such as the ability to respond to calls with a preset text message and three-way calling. The messaging application on the Treo 680 displays text-messaging conversations as "threaded chats" which is pretty cool in itself, similar to IM, so users can see their entire conversation thread with a particular person. The Treo 680 also plays MP3′s and has an built in digital camera, camcorder and video player.
The new 680 has 64MB of available memory, which is nearly three times the memory of the Treo 650. Customers can add up to 2GB of storage with expansion cards.
For users with hosted Microsoft Exchange solutions, the new version will use the Exchange ActiveSync for synchronization of calendar, e-mail, and contacts information. The new Palm smartphone also has Bluetooth wireless technology, and can be used as wireless modem for laptops and other PCs.
Treo 680 [Palm]