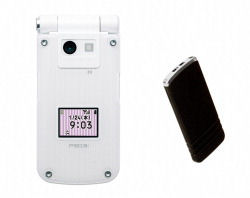 A Japanese phone company – NTT DoCoMo – has taken mobile phone security to a new level with it's new P903i Mobile Phone. The P903i has a couple new, unique and very secure features that are pretty interesting.
The first of the features involve carrying around a small black electronic card that communicates wirelessly with the phone. The phone senses it's proximity to the card and locks itself if it gets too far away. It then cannot be used to make a call or obtain information at that point. The owner of this extra-secure phone can keep the small card in a purse or pocket so that it is always close. Distances for the mobile phone from the card can be configured for 26 feet, 66 feet or 130 feet away.
If the owner of the phone loses this security card, they can enter a password to unlock the P903i one time, but after that they will need a new security card to enable the proximity security feature again. The significance of this security can add additional trust to cell phone owners to use the mobile phone as a credit card or debit card, as some other new Japanese phones do currently.
There is another advanced security feature available on the P903i mobile phone that secures it against someone who does happen to have the security card within the required distance of the phone, say if an owner's entire purse was stolen with phone, security card and all.
This second security feature works off of facial recognition software. The owner must take between 3 and 10 pictures of themselves in various poses or states, such as with or without makeup, with or without glasses, etc. When the facial-recognition feature is activated the owner of the phone must take a snap-shot of themselves with the phone before using it. The software on the phone analyzes the photo to compare it against the security pictures taken earlier during setup to verify that the person holding the phone is the actual owner.
The makers of this software on the P903i seem to have thought of everything, because there is also a feature to check for blinking eyes while taking the photo, to make sure someone isn't taking a snap-shot of a photo of the owner, and a 4-digit password can be added to this process as well, to guard against your twin.
Lost the mobile phone? Well, you know that no one is using it, but you can then use an online web site and find it with built-in GPS tracking software.
The phone is supposed to be available in the coming months, but an exact date and pricing is not yet available.