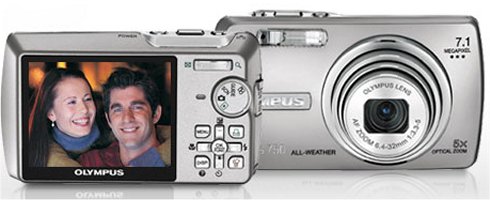 With the 7.1 megapixel resolution and 5x optical zoom in this compact frame, Olympus has done well with it's Stylus 750 Digital Camera. Olympus has incorporated some advanced image stabilization features into the 750, including Dual Image stabilization and Digital Image stabilization to reduce the chance of blur when you are moving or the object you are shooting is.
With the Stylus 750, Olympus had come out with the thinnest 5x optical zoom camera in it's class, which is great for getting those close up shots without having to lug a large gadget in your pocket. This camera is also weatherproofed, allowing for use in the rain, spraying waves or on the ski slope.
Some other features on of the Stylus 750 Digital Camera include a 2.5″ LCD screen to view photos and aim your shots, and a shutter speed of 1/1000 sec to 1/2 seconds. It also has a shutter speed of up to 4 seconds in Night Scene mode. The camera itself has 17MB internal memory, so you will mostly like need an external xD-Picture Card. Note that there is no way to manually set the exposure on this camera, which may or may not be a deciding factor for casual shooters.
With an relatively large array of shooting modes, a nice array of colors (sliver, black, green and red) and incredible zoom features packed into a camera that is only 4.2 oz and only 3.8″ wide and .96″ thick at it's thickest point, (that's pretty small for a camera with this feature set) you really get quite a package.
Stylus 750 [Olympus]