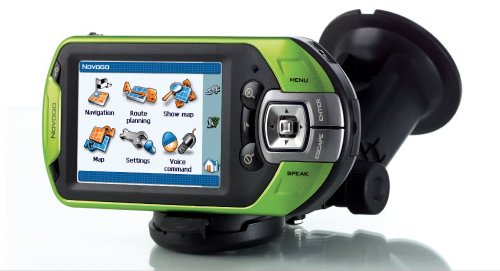 The Novogo Car Navigator GPS V Series system has an offering of a much more sleek design compared to many of the GPS systems on the market to day. Shown here with a nice car docking mount, it also detaches to be a stand alone hand held device not much bigger than many mobile phones. It also comes in many colors to fit your style or to match the interior of your car.
Seamless maps come for regional or for the US or Pan-Europe. The Novogo allows for voice commands, which makes this a lot safer GPS system than some so you are not fumbling with on screen buttons while trying to drive, along with voice guidance and speaker. This is all great in the car, not always so cool when walking in public.
Some cool accessories for the Novogo V Series GPS include interchangeable face plates to completely change the look of your GPS device. It has an optional SD Card slot for moving data and you can hook it up to your PC to load different map discs. The Novogo also has a external GPS received in case you are not getting good reception from the built in antenna inside your car, and of course the stylish docking kit that mounts to the inside of the windshield.
Specificaitons [Novogo]