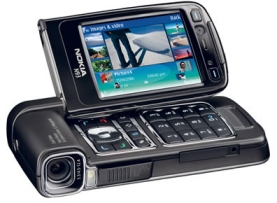 Nokia today announced the launch of the third installment in the Mission Impossible franchise on memory cards to coincide with the film's DVD release. This full length version of M:i:III will be available on memory cards exclusively with Nokia Nseries multimedia computers. The film will be also offered as part of the Nokia N93 sales package with no additional cost to consumers.
The Nokia N93 sports a high definition 2.4″ QVGA color screen making it a great mobile platform for watching videos. The film is supplied on a 512MB miniSD card and runs at 25 frames per second. The N93 allows you to rewind, fast forward, stop and continue watching the movie anytime and once you have watched the movie, you can store it on your PC.
"Combining the exciting innovations of Nokia N93 with a film as cutting edge as M:i:III makes for a truly winning formula for consumers," said Thomas Lesinski, President, Paramount Pictures Digital Entertainment.
This offer is currently only available in Finland, France, Germany, Hungary, Ireland, Italy, Portugal, Spain, Turkey and the UK.