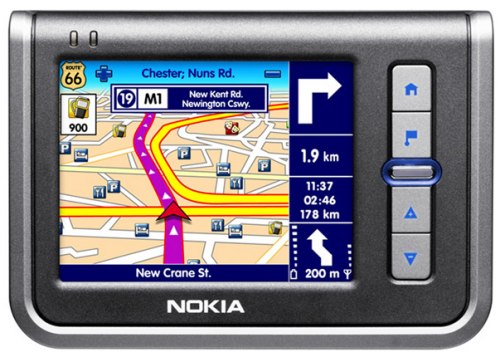 Nokia has announced a new GPS device for use on roads in Europe called the Nokia 330 Auto Navigation.
Using the ROUTE 66 Navigate 7 software along with map data from NAVTEQ, you can enter you destination into the 330 and have it map you a route and direct you with voice commands in multiple available languages.
The vice president of multimedia enhancements at Nokia, Razvon Olosu, stated "Consumers are increasingly eager to use personal navigation devices while driving and we are delighted to introduce the Nokia 330 Auto Navigation device to meet this demand." Olosu continues, "Nokia 330 Auto Navigation complements the recently announced GPS and navigation solutions from Nokia. Finding your way across Europe is simple with this comprehensive navigation package, including an integrated GPS receiver and European maps."
The Nokia 330 GPS has a 2GB memory card that comes with pre-installed European map data, and can be can be seen in different views for day or night, and in 2-dimensional or 3-dimensional views depending on your preferences. The 330 has a 3.5″ color touch screen on the GPS gadget that appears from press photos to be mountable on your windshield as well as just carried around. Users can also take advantage of some additional multimedia features with the ability to view static photos, video and listen to music right on the 330.
The Nokia 330 Auto Navigation is expected for release by the end of 2006.
Press Release [Nokia]