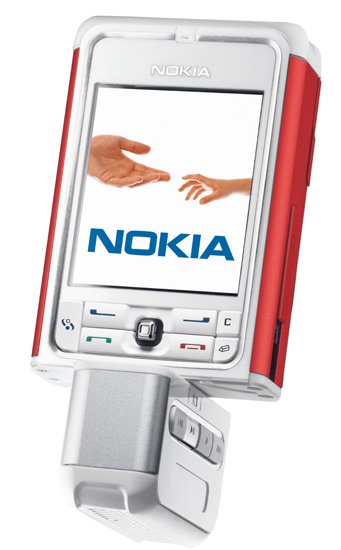 This is what I like to see. Another mobile phone that is breaking the mold. Too much emphasis has been placed on being so thin and it's nice to see Nokia tout the full-figured look with their 3250 XpressMusic. Another credit to their design ingenuity for not making this phone with a clam shell design, but more so for taking a different angle and making the design so that the base of the phone twists to perform different functions.
In the normal forward mode, the Nokia 3250 operates like a regular phone with the keypad in front for dialing and common functions. Twist the base 90 degrees and you are using the camera to take a picture at 2 megapixels or to record a short video. Turn it the same direction another 90 degrees and the multimedia controls are facing the front to play music or look at pictures or video on the 2.2″ color display.
Of course the 3250 is chocked full of the common functions you would expect from a smart phone, and it includes memory that is expandable up to 2 GB (10 MB internal) to store media. It supports Tri-band GSM coverage so you can travel the globe and has bluetooth for your hands free headset.
Speaking of Bluetooth, the Nokia 3250 has the Nokia Sensor application. If you are not familiar, you can express yourself to other people that also have the Sensor application on their phone and are within 10 meters of you. You can make your own personal pages that others can see only when they are new you. This can be kind of fun to try to guess who made the Sensor pages in the crowded area you are in, or maybe a little freaky depending on what you see, I guess.
The XpressMusic phone also has an application called Muvee. Muvee allows you to edit the movies that you recorded, right on your phone. There is of course an internet browser and Yahoo connectivity, a Nokia Lifeblog diary to log all of your multimedia, and a sound meter to see just how loud it really is in here.
It also has a visual radio function that allows you to interact with your favorite radio stations, and Mobile blogging to allow you to share your info via email or MMS. Oh, and you can't forget the messaging "presence" features with wireless Village, Instant Messaging and a dynamic phone book.
If that doesn't tell you enough about the Nokia 3250 then check out their own spec sheet.
Specs [Nokia]