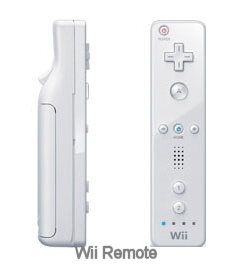 The upcoming Nintendo Wii game console sports some unique game controllers that are sure to set it apart from other console releases this fall. Nintendo's goal with its new revolutionary game controllers is to make gaming as accessible to many people of many ages and abilities. The controllers are comprised of two different input devices: the Remote and the Nunchuk.
The Remote is the size of a typical remote control and functions as a wireless Wii Remote controller. The Wii Remote controller uses Bluetooth technology and sends your actions to the Wii console from as far as 30 feet away. The Remote also functions as a pointing device, includes a speaker, rumble feature, and expansion port for additional input devices (like the Nunchuk). Some of the functionality provided by the Remote includes:
In a tennis game, it serves as your racket you swing with your arm.
In a driving game, it serves as your steering wheel.
For first-person shooters, the remote acts as your weapon that you point at an enemy.
The Nunchuk is the other Wii controller and connects to the Wii Remote controller at the expansion port. The Nunchuk controller contains the same motion-sensing technology as the Wii Remote controller but also includes an analog stick to assist in character movement and two quick buttons for easy access.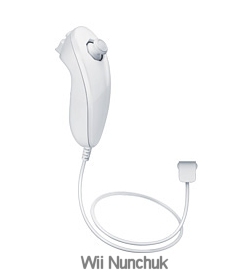 Because the Wii Remote and Nunchuk controllers are only relatively dependent on each other, players are able to hold them in whichever hand is most comfortable. The free-wielding nature of the Wii controllers grants freedom seldom seen in console controllers.
Possible uses of the Remote and Nunchuk combination include: Using the analog stick of the Nunchuk to move characters and the Wii Remote controller to perform a specific action, such as throwing a pass in football, opening a door, or aiming a ranged weapon in an action game.
The Nintendo games are certainly unique when compared to the other marquee consoles and these controllers are sure to keep that trend going. The functionality of these revolutionary multifunction devices is limited only by the imagination of the game designer.