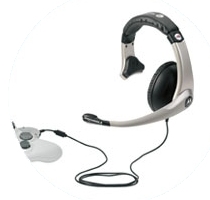 Inspired by the NFL Coaches Headset, The Motorola Gaming Headset X205, blends enhanced capabilities such as voice command technology and genuine NFL design to re-define the football video gaming experience and hopefully inspire you to coaching greatness. Based on the actual headset worn by NFL coaches, this version has been modified for the ultimate online gaming experience with high-quality microphone and materials to give the user clear voice communication and gaming voice commands.
The Gaming Headset X205 lets gamers call the shots with voice recognition technology that allows you to pause or call plays; just state a command and receive real time results as if you were coaching from the sideline. Other features include inline mute and volume controls for seamless sound management.
"We are thrilled to step into the gaming space with this unique experience for football video game enthusiasts," said Joe Hartsig, senior director, MobileME, Motorola, Inc. "Motorola headsets have been worn on the field by NFL coaches for years That's why the Gaming Headset X205 is the perfect product to launch Motorola's expanding video game portfolio."
The Gaming Headset X205 is a first for Motorola in an expanding portfolio of devices for the video game space. It is compatible with both the Xbox 360 and Sony Playstation 2 gaming consoles. The Motorola Gaming Headset X205 is available now for $49.99.