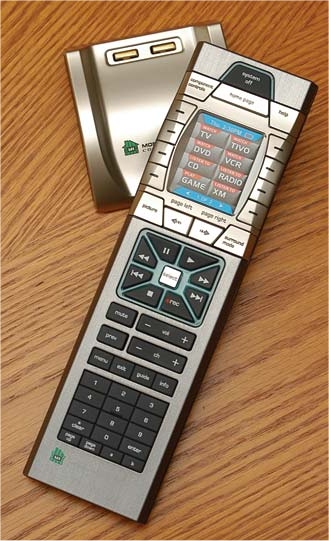 Monster is well known for high quality sound, and they have continued it along with better enabling the use of their other high quality items by offering the Monster Home Theater Contoller 100.
This remote has a rechargeable battery, a small charging cradle and features a 3.2″ color LCD screen with up to 8 customizable functions you can program into the remote control to command up to 15 devices in your home theater world, including things like televisions, projectors, DVRs, PVRs, laserdisc players, satellites, cable boxes, amplifiers, receivers, VCRs, DVD players, and even stereo systems.
The Monster Controller has a form fitting design to fit your hand and makes convenient use of the most common buttons for driving your entertainment. Some unique dedicated buttons include a surround sound button to toggle through your different sound options, and a picture aspect ration button to switch through the different aspect ratios on your television. Both of these functions are often buried in the menus and this remote control brings them to the forefront.
If you concern is the complication of having to program this remote control as mine was at first, have no fear. Even simple universal remotes I have purchased have required me to look through a large fold out instruction sheet with hundreds of codes I could "try" to see if my AV components comply, but not in this case. You can connect your Monster Home Theater Remote 100 to your computer via a USB cable, and program all the functionality through an application that steps you through with questions to get the right settings for all of your components.
The Monster Home Theater Remote 100 communicates using IR and RF signals, and is going for just under $300 USD.
Monster Remote [SmartHome]