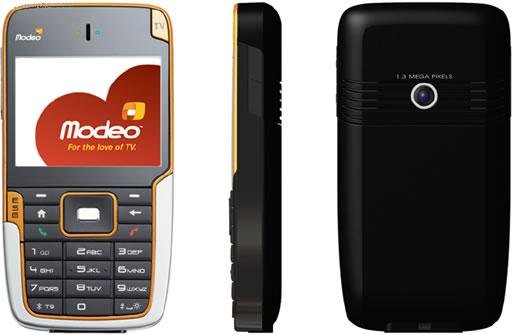 This innovative mobile phone device called Modeo is designed around the high performance DVB-H (Digital Video Broadcast-Handheld) standard, the Microsoft® Windows Mobile® 5.0 platform and along with Microsoft Windows Media platform to give users with a feature-rich mobile multimedia and productivity solution. The new Modeo phone has a pretty good multimedia experience which is impressive when viewing shows on the mobile device.
Manufactured by HTC, the Modeo mobile phone views broadcasted television entertainment to the palm of your hand. You can watch live digital TV and music services, access home or office emails through Outlook, along with calendar and contact information.
Based on the Windows Mobile 5.0 platform, the Modeo is built to receive and playback specifically Modeo's DVB-H mobile broadcasts delivered using Windows Media technologies. The Modeo handset also uses Windows Media Player 10 Mobile to playback video and music stored in many formats, including WMA, MP3 and AAC. There is also a subscription music services through use of Windows Media DRM.Users will be able to surf the Internet and synchronize calendars, contacts and email messages with an office or home computer, all in a real-time mobile environment.
When designing, Modeo and HTC also included the common telephone features and benefits that are found in a traditional handset. The Modeo handset supports quad-band GSM services (850/900/1800/1900) for world use, and it also supports GPRS/EDGE services, enabling high speed data access and file downloads.
The Modeo device has a standard stereo headphone jack, a 1.3 mega pixel camera and a micro-SD expansion card slot for expanding memory up to 1 gigabyte for storing hundreds of songs, video clips, games, and even full length movies. The face has a 2.2-inch QVGA landscape display that shows video at up to 30 frames per second with battery life of up to three hours of TV viewing, four hours of talk time or six days of standby time. The Modeo handset has a pretty lightweight design, measuring just 4.1″ x 2.2″ x 0.6″ in size, with a total weight of 4.23 ounces.
More Info [Modeo]