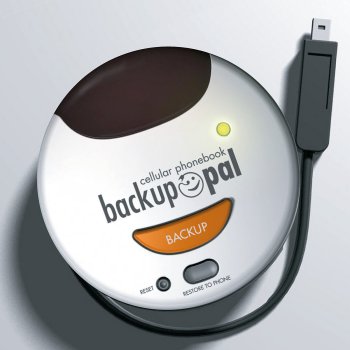 The Backup Pal allows you to back up data from your mobile phone onto this little gadget so you have the information saved in the event that you lose your phone or are switching phones.
The cool thing about the Backup Pal is that it does not require a PC or software to do the backup of your phone contacts. The device comes with interchangeable adapters to fit virtually any mobile phone on the market, and it also has an IrDA option to transfer the data wirelessly, along with a USB adapter for USB phones, or you can hook it up to your computer and back it up there if you want to.
Once connected, it is a simple one touch button to back up your contacts with seemingly no complications or installations. It's portable and aside from just having the backup data, it saves you from the charge you would usually get to have the data transferred for you. The Backup Pal backs up over 1,000 contacts on a 128K internal flash memory card.
Home Page [Backup Pal]