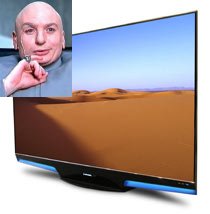 OK, anytime I hear anything about laser beams anymore I can't help but think of evil geniuses.
Mitsubishi has manufactured a prototype of a television based on the technology of two other companies that uses a type of laser beam projection instead of plasma or liquid crystal displays (LCD). This is still in development but they think something might be ready for production towards the end of 2007.
The Laser TV is intended to be a replacement, or at the least direct competition to the reigning plasma televisions for brightness and picture clarity. Makers boast that the new laser projection television will have a better quality with more detail, consume less power and cost significantly less than plasma or LCD TV's.
If the new laser TV's do all that then I guess you really can't go wrong with that. Is it really to much to ask to have a television that runs on frickin' laser beams?
Source [News.com.au]
lasers, LCD, Mitsubishi, tv