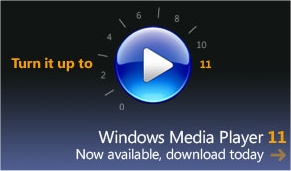 Windows Media Player 11 for Windows XP was released by Microsoft on Monday. The focus on this release of the player includes changes to the navigation system and new ways to store music, video, pictures, and recorded TV.
A significant change to this version of the player involves a partnering with MTV Networks and its URGE music service. URGE is the featured digital music service for Windows Media Player 11 and is deeply integrated into the Player.
The URGE library contains more than 2 million songs from 18 genres and many exclusives from MTV, VH1, and CMT. The URGE network gives you access to hundreds of playlists, 130+ URGE radio stations, music feeds, blogs, interviews and feature stories.
Songs on URGE are typically $.99 per track or $9.99 per album. An URGE All Access subscription plan which gives you unlimited music downloads is available for $9.95 per month or $99 per year. The URGE All Access To Go subscription plan costs $14.95 per month or $149 per year and gives you the ability to transfer your subscription plan music to a compatible portable music player.
Windows Media Player 11 features an URGE tab which gives you access to the URGE library to play, download or purchase tracks from the catalog, or take advantage of all of the editorial features.
By joining forces with MTV, Microsoft is hoping to take a bite out of Apple Computers stranglehold on the online media download space. Since most users already have Windows Media Player installed, Microsoft is well positioned to erode some of that marketshare.