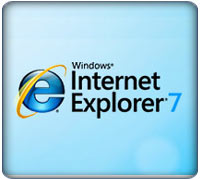 Microsoft Corp. released Windows Internet Explorer 7 for Windows XP on October 18th. This latest version of IE is focused on providing a greater level of security and making web browsing easier.
Large financial institutions and security vendors such as PayPal and VeriSign are encouraging their customers using Windows to download and use Internet Explorer 7. "The new Internet Explorer 7 browser has significant security enhancements, including features that help customers protect their personal information when browsing, communicating and transacting online." said Michael Barrett, chief information security officer for PayPal Inc.
In response to the increase in online security threats, Internet Explorer 7 provides safeguards that help protect against malicious software and phishing attacks. In Internet Explorer 7, Microsoft has helped reduce the exposure to these attacks by fortifying the browser itself and providing better information to users to assist them in making better and safer decisions online.
Security Features
The security and privacy protection features of IE7 include:
Phishing Filter – The opt-in Phishing Filter analyzes pages in real time and warns users about suspicious sites and blocks access to confirmed phishing sites. The confirmed phishing sites list is updated several times every hour using security information from Microsoft and industry partners.
ActiveX Opt-In – This malware protection feature disables nearly all pre-installed ActiveX® Controls, and helps prevent potentially vulnerable controls from being exposed to attack.
Fix My Settings – Internet Explorer 7 alerts users when current security settings may put them at risk.
Extended Validation Certificates – To help further reduce identity theft and increase user confidence in Web transactions, the Internet Explorer 7 Address Bar will display the usual SSL padlock with a green highlight when visiting a site with an Extended Validation Certificate.
Cross-domain Script Barriers – This feature restricts Web page script from interacting with content from other domains or windows. This new safeguard further helps protect users against malware by limiting the potential for malicious Web sites to manipulate flaws in other Web sites.
Delete Browsing History – This feature enables users to instantly clean up cached pages, erase any passwords, form data and cookies, and clear their browsing history. This feature is especially valuable on shared or public computers.
International Domain Name Anti-Spoofing – IE 7 notifies the user when similar characters in the URL are not expressed in the same language – even when the characters look similar across several languages – thus helping protect the user against spoof sites that would otherwise appear as a known trustworthy site.
Internet Explorer is now available in English and will run on Windows XP Service Pack 2, Microsoft® Windows XP 64-bit Edition and Microsoft Windows Server 2003 Service Pack 1. Internet Explorer 7 will be made available to other Windows-supported languages over the coming weeks.